Image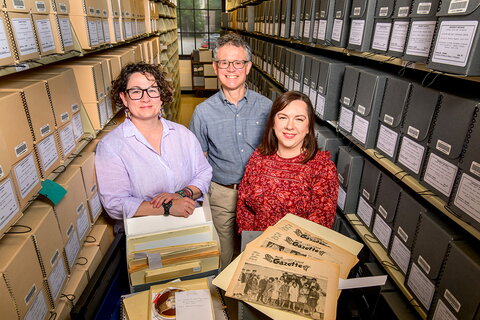 Researchers at the University of Illinois Urbana-Champaign are working with Native American tribes across the country to digitize oral histories and ethnographic materials collected from tribal members and to make them accessible online.
Illinois is one of seven universities that are part of the Doris Duke Native Oral History Revitalization Project to increase the accessibility of first-person narratives collected in the late 1960s and early 1970s. The project aims to build relationships between the universities and the Native communities documented in the collections, to return copies of the materials to the tribes and to have tribal members serve as co-curators to determine culturally appropriate access to the collections.
Bethany Anderson, the natural and applied sciences archivist for the Archives; Jenny Davis, the director of the American Indian Studies program; and Christopher Prom, the associate dean for digital strategies for the University Library are leading the project at Illinois.
The seven universities were provided Doris Duke grants in the 1960s to collect narratives and record events of tribes throughout the U.S. and in Canada, resulting in more than 6,000 oral histories.
Anthropology professor Edward Bruner directed the work at Illinois, and anthropology graduate students lived with tribes and collected written and recorded interviews, photographs and audiovisual recordings of ceremonies and music. The materials include the journals and notes of the graduate students, transcripts, newspaper clippings, event programs and other paper materials, in addition to the recordings. In 2002, the collection of materials was transferred from the anthropology department to the Archives.
"We could provide good preservation and make them more accessible. We knew the collection provided really good documentation about people in society who there really wasn't a lot of documentation about," said Prom, who led the transfer of the materials to the Archives.
A large part of the work now is returning these materials to their originating Native communities.
"Native communities may have not realized that these materials would end up in an archival repository someday," Anderson said. "Our goals are to reconnect these recordings with their originating communities and the individuals and families represented in the materials. Above all, it is important to recognize the tribal sovereignty of the materials and to do this work collaboratively and ethically."
full story ©Illinois News Bureau