Image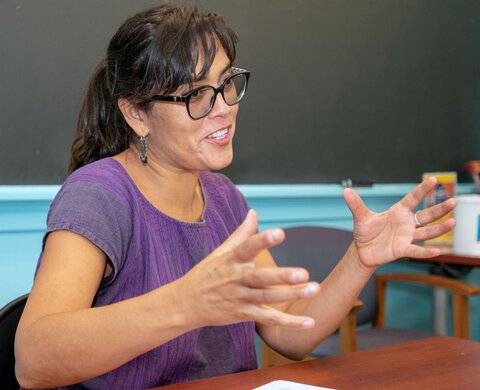 Champaign — Language barriers were already a public health problem. The pandemic made them even more life or death than usual.
When you're communicating a COVID-19-derived concept like 6 feet of social distancing to local speakers of Q'anjob'al (pronounced "kahn-ho-Bahl"), one of the most common languages spoken in Guatemala, you translate with as much cultural specificity as humanly possible.
Which means adopting cultural units of measurement — Waqeb' ja' — based on a hand's length, that the older generation of speakers will understand.
"There are young Q'anjob'al that are born here who only measure in feet. Then you have the grandma, la abuelita, who only knows the hand measurement, and the parent who will think in meters," said UI Assistant Clinical Professor Korinta Maldonado. "It takes so much time to just translate one sentence."
It's a drop of the public health messaging that Maldonado and her crew at Pixan Konob' Q'anjob'al Interpreters and Language Justice Collective have been creating for the last 18 months.
For the work of the collective she helped form, Maldonado on Saturday will receive the 2021 Immigrant Leadership Award from the Champaign-Urbana Immigration Forum.
see story at © The News Gazette