Image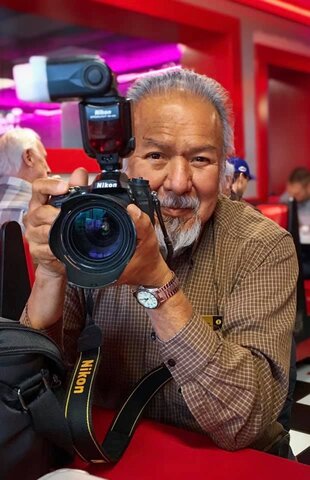 Memorial for Durango Mendoza, Muscogee (Creek) writer/artist (1945–2020)
When I was younger, I walked with my mother, aunt, and their cousin, Roselyn Bunny-Frye, down to the creek near our church, Thlewarle Indian Baptist Church, to see some handprints in the cement that held up the little bridge. When the bridge had been built, Roselyn and her siblings and cousins had snuck down there and put their handprints in the cement. She pointed them out. "That one is Tango's," she said.
"Tango" was the nickname of her brother, Durango Mendoza, a Muscogee (Creek)/Mexican artist and writer. I thought how funny it was to think of his childhood handprint here, out in the middle of rural Oklahoma, when his words were in so many anthologies and his photographs hung on gallery and museum walls. To me, a young writer, Durango showed that someone from our community could write about our way of life and have people all over the world read it. Although, by then he focused on photography.
I thought of that incident when I heard that Durango had passed away unexpectedly on Monday, October 5, 2020, at the age of 75 in Urbana, Illinois, where he had lived for many years with his wife, Jean. He was born on June 23, 1945, in Claremore, Oklahoma, to Robert S. and Lucille (Smith) Mendoza. His stepfather was James Bunny. He was a member of the Fuswv (Bird) clan and Eufaula-Canadian Tribal Town.
See © First American Art Magazine for the full story.