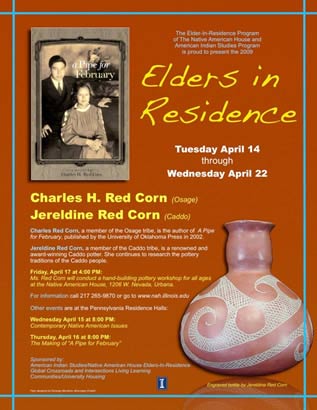 A member of the Osage tribe, Charles H. Red Corn is the author of A Pipe for February, published by the University of Oklahoma Press in 2002. Jereldine Red Corn, a member of the Caddo tribe, is a renowned and award-winning Caddo potter. She continues to research the pottery traditions of the Caddo people.
Wednesday, April 15 at 8pm 
Pennsylvania Residence Hall
Contemporary Native American Issues
Thursday, April 16 at 8pm
Pennsylvania Residence Hall
The Making of A Pipe for February
Friday, April 17 at 4pm
Native American House 
Pottery Workshop
Jereldine Red Corn will conduct a hand-building pottery workshop for all ages
Native American House and American Indian Studies will be hosting a community dinner for the Elders-in-Residence on Friday evening, after the pottery workshop.
All events are free and open to the public
Sponsors:
American Indian Studies
Native American House
Global Crossroads
Intersections Living/Learning
University Housing