Center for Advanced Study initiative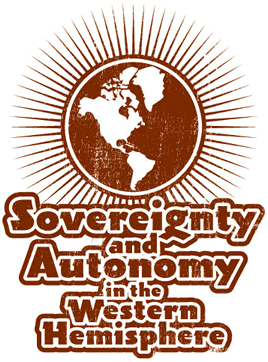 National and Regional Struggles for Power, Identity and Space 
For the last 500 years, the peoples of the Western Hemisphere have shared a common story. Disconnected from regular contact with Europe, Africa and Asia prior to 1492, this vast macro-region has been shaped by distinctive legacies produced by its global entanglements. Sovereignty and Autonomy in the Western Hemisphere, is a two-year initiative aimed at exploring this broad topic that has played an important role in this vast region throughout its history.
Spring 2012 | Fall 2011 | Spring 2011
Cosponsored by: American Indian Studies Program, Center for Latin American and Caribbean Studies, College of Liberal Arts & Sciences, Department of Anthropology, Department of History, George A. Miller Endowment and Spurlock Museum
Steering Committee
Frederick E. Hoxie (History), CAS Professor and Resident Associate
Nils Jacobsen (History), CAS Resident Associate
Andrew Orta (Anthropology, CLACS)
Robert Warrior (American Indian Studies Program)
Sovereignty and Autonomy in the Western Hemisphere: Sovereignty in Practice
This semester the focus will be on Sovereignty in Practice and will explore how indigenous sovereignty functions on the ground affecting Native and non-Native people across the hemisphere. In particular we will examine how Native initiatives and Native activists have resisted, altered − or even replaced − colonial rule and preserved enclaves of autonomy. Among the specific issues we will address are indigenous interactions with genomic science, the possibilites for autonomous indigenous governance, and community control of natural resources.
Tuesday, January 24
Monica Sans
National Identity, Census Data and Genetics in Uruguay 
Wednesday, January 25
Jessica Bardill, Ripan Singh Malhi, Monica Sans
Collaboration and Reclamation through Genomics in Uruguay, Canada and Puerto Rico
Tuesday, February 21
Thomas Swensen, Lourdes Gutiérrez Nájera, Frederick E. Hoxie, Andrew Orta
Making Sovereignty and Autonomy Real: An Introduction to Indigenous Control over Resources Roundtable discussion
Tuesday, March 13
Matthew Gilbert, Korinta Maldonado Goti, Justin Richland
Tribal Juris-diction: Sovereign Commitments and Contradictions in the Everyday Discourse of Native Nation Governance
Tuesday, March 27
Jolene Rickard, Jane Mt. Pleasant, Stephen Brush, Scott Manning Stevens 
Corn and Indian Communities in the Americas
Tuesday, April 17
Silvia Rivera Cusicanqui
The Ch'ixi Gaze: Sociology of the Image as a Decolonizing Practice
Literature and the Arts: Individual Identities and Hemispheric Dilemmas
This semester the focus will be on language and expressive culture. Literary and other artistic media have played key roles in defining and asserting dominant national identities, postcolonial aspirations of modern refinement, as well as alternative expressions of national experience, sovereignty, and autonomy from subordinated groups. The rapid contemporary circulation of new genres of expressive culture through broadcast and digital media underscore the need for a more systematic macro-regional examination of literature and the arts across the Americas.
Tuesday, September 13
Heid E. Erdrich, Inés Hernández-Avila
Indigenous Poetry and the Struggle for Sovereignty − Poetry Reading
Wednesday, September 14
Heid E. Erdrich, Emilio del Valle Escalante, Inés Hernández-Avila
Poetry Roundtable
Tuesday, October 18
Silvia Rivera Cusicanqui
CANCELED−The Ch'ixi Gaze: Sociology of the Image as a Decolonizing Practice
Wednesday, November 02
J. Kehaulani Kauanui, Paul DeMain
Roundtable on Indigenous Media
Indigeneity
This spring, the Sovereignty and Autonomy programs focus particulary on the issue of "indigeneity." Taking as a point of departure similarities and differences in colonial rule and nation-building strateges across the Americas, events this semester will examine contemporary discussion of indigenous rights, different models of multicultural and intercultural citizenshipfrom across the hemisphere, as well as the increasing impact of regional and global framings of indigeneity through the work of social movements, non-givernmental organizations and international organizations such as the United Nations and the World Bank.
Wednesday, February 23
Rudi Colloredo Mansfield, University of North Carolina at Chapel Hill
Avenues of Autonomy: Street Protest, Self Determination and Ethnogenesis 

Wednesday, March 2 
Tiya Miles, University of Michigan
Race, Gender, and Nationalism(s) in the Native South
Commentator: Jodi A. Byrd, University of Illinois 

Wednesday, March 9 
Frederick Hoxie, University of Illinois
Nils Jacobsen, University of Illinois 
Indigeneity and Liberal Ideology in North America and the Andes 
Commentator: Sarah Morales, University of Victoria
Wednesday, April 6
Gilberto Rosas, University of Illinois
Comparative Indigeneities Roundtable
Friday, April 15
Sovereignty, Autonomy and Indigeneity in the Western Hemisphere Conference
Glen Coulthard, University of British Columbia
Just Another Angry Indian: On Reconciliation, Recognition and Resentment in Indigenous Politics
Luis Carcamo-Huechante, University of Texas at Austin
Circles of Self-Recognition: The Poetic and Political Awakenings of the Mapuche "Heart"
Pamela Calla, New York University
Democracy, Gendered Racisms and the Anti-Racist Law in Bolivia
Rodolfo Stavenhagen, El Colegio de Mexico
Indigeneity and New Visions of the Nation Sate in Latin America
Conference sponsors: Hewlett International Conference Grant Program administered by International Programs and Studies, American Indian Studies Program, College of Liberal Arts and Sciences, Center for Latin American and Caribbean Studies, Center for Advanced Study