Global Indigenous Studies: The State of Play, 2013-2015
Mission: Global Indigenous Studies: The State of Play is an innovative, multidisciplinary initiative proposed by the core faculty in American Indian Studies to launch the institutional frameworks necessary for robust graduate training in Indigenous studies. This six-faculty member team brings expertise in history, literary studies, religion and theology, gender and sexuality studies, political science, and the history of consciousness in addition to access to an extensive network of scholars in the indigenous world. Envisioning global Indigenous studies as a field at and in play, this program will consider how indigeneity troubles and transforms disciplinarity at the site of technological invention and embodied performance in order to prepare students to navigate the interdisciplinary, transnational, and cross-cultural demands of inclusive global indigenous studies. In addition to providing students with the necessary critical, methodological, and technical skills to address the most pressing needs of indigenous peoples, this group will innovate new approaches in the field to theorize how indigenous peoples figure within the edu-tainment domains of museums, sports, performance, and digital games at the same time that we consider how traditional embodied knowledges manifest in such sites of play and performance. Students will learn how to develop research projects responsive to the needs of indigenous peoples and will gain experience in working within and across disciplines to activate global indigeneity as an analytic frame. 
Program: 


The Program is administered through the INTERSECT program in the Graduate College at the University of Illinois.
Faculty: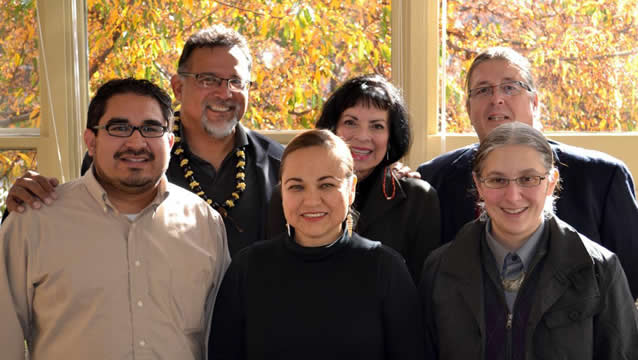 Jodi A. Byrd (Chickasaw), AIS and English
Jenny Davis (Chickasaw), AIS
Christine DeLisle, AIS and Gender and Women's Studies (Chamorro)
Vicente Diaz, AIS and Anthropology (Pohnpeian)
Matthew Sakiestewa Gilbert (Hopi), AIS and History
Joy Harjo (Mvskoke), AIS
Robert Warrior (Osage), AIS and English

INTERSECT Fellows:
Issac Akande
Rico Kleinstein Chenyek
Nicholas Cragoe
Elise Ann Geist Duwe
Elizabeth Eby
Raquel Escobar
Eman Ghanayem
Curriculum:
• Fall 2013
AIS 503 -- Seminar in Indigenous Studies
Instructor: Jodi A. Byrd
#Indigenous: Digital Natives, Technology, and Indigenous Critical Theory With #idlenomore and the rise of social media for indigenous activism, decolonizatin, and mobilization, questions emerge about the role digital technology plays in indigenous modes of resistance locally and globally. This course, in conjuction with the fall symposium on Indigneous New Media, will look at some of the recent scholarship in indigneous studies that considers the impact of media, technology, and digital cultures on knowledge production at the site of materiality, recognition, and language. In reading key texts across a range of disciplines from video game studies to queer theory, the course will ask students to consider how a concept like indigeneity mobliizes and disrupts the structures of settler colonialism and notions of spatiality, territoriality, temporality, and futurity. Some of the texts may include Ian Bogost, Unit Operations, Judith Halberstam, The Queer Art of Failure, Mishuana Goeman, Mark My Words, Mark Rifkin, When Did Indians Become Straight, Michael Nicoll Yahgulanaas, Red: A Haida Manga, and Chadwick Allen, Trans-Indigneous.
• Spring 2014
AIS 501 -- Indigenous Critical Theory
Instructor: Vicente Diaz
Explores the distinctive form of inquiry which critiques settler-colonial ideas and institutions at the interdisciplinary crossroads where American Indian and Indigenous Studies engages other theories including but not limited to feminist theory, critical race theory, semiotics and phenomenology, psychoanalysis, and the postcolonial theory -- especially at they relate to Pacific masculinities and sports.
• Fall 2014
AIS 503 -- Seminar in Indigenous Studies
Instructor: Christine DeLisle
Seminar on Indigeneity, Museums, and Representations
• Spring 2015
AIS 502 -- Indigenous Decolonial Methods
Instructor: Robert Warrior
Seminar on Indigenous Studies Methods 
Events:
Digital Indigeneities: (Re)mediations, Old and New
Fall Symposium, September 13-14, 2013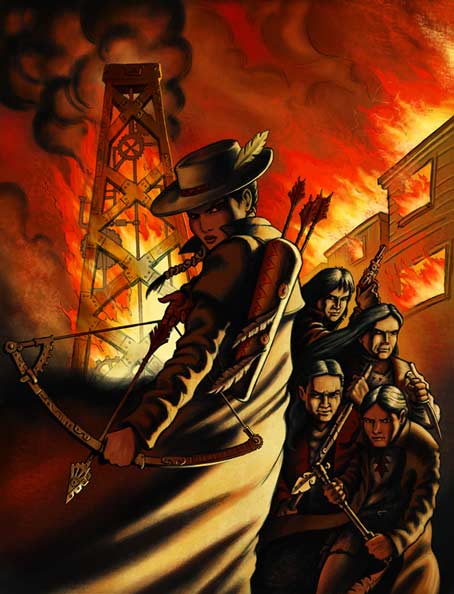 ©The West Was Lost, 2008
Written by Elizabeth LaPensee, Art by Frank Grau Jr.