Digital Indigeneities: (Re)mediations, Old and New
Fall Symposium, September 13-14, 2013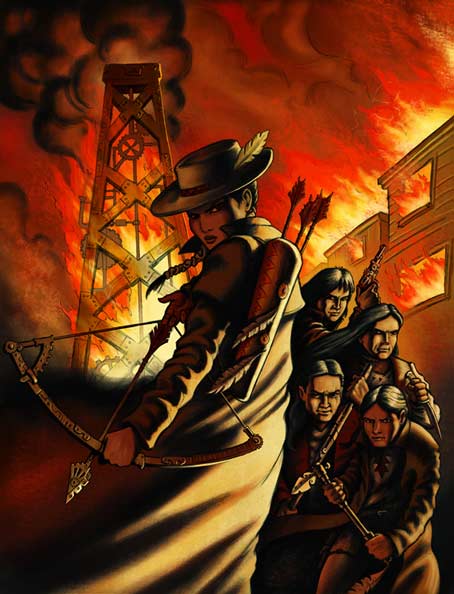 © The West Was Lost, 2008. Written by Elizabeth LaPensée, Art by Frank Grau Jr.
The American Indian Studies INTERSECT Project "Global Indigenous Studies: The State of Play" hosts "Digital Indigeneities: (Re)Mediations, Old and New" to introduce undergraduate and graduate students and the broader campus community to the stakes of critical Indigenous studies at the intersection of digital humanities and new media studies.
Activating indigeneity within larger conversations about the place old and new media, technology, and video games have within the contemporary world is essential to ensure that true innovation transcends the logics encoded within the assumptions of gaming, augmented reality, and digital space.
Fostering digital studies within global Indigenous studies helps prepare the next generation of students for this century's research and pedagogical opportunities and challenges, and our symposium brings together Indigenous scholars, designers, and filmmakers from Aotearoa/New Zealand, Canada, and the United States to think through the implications of interdisciplinary approaches to media studies sited through gender, race, and settler colonialism.
Friday, September 13
Sharon Holland, Duke University
"Blood Strangers: A New Critical Race Theory"
"The Lesser Blessed" screening followed by Q&A with Richard Van Camp

Saturday, September 14
All Events on Sept 14 at Asian American Cultural Center
Welcome & Introductions
Siobhan Somerville, Associate Dean, Graduate College
Jodi Byrd, Acting Director, American Indian Studies

"Small Pieces in A Big, Big Universe:" Gendering Media Activism
Marisa Duarte, Chancellor's Postdoctoral Fellow, AIS
"The Phones They Carry: Idle No More, Social Media, and Native Women's Political Mobilization"
Dory Nason, University of British Columbia 
"Not Your Pocahontas: Activism, Indigenous Women and Violence in Tailfeathers' A Red Girl's Reasoning and Bloodland"
Sharon Holland, Duke University
"Beasts of the Southern Wild and the Story of Little Black Girls"
Chair and Comment: Anita Chan, Illinois

Procedural Indians: Native Ludologies in Video Games. A Roundtable on Assassin's Creed III
Moderator: Nepia Mahuika
Jodi Byrd
Elizabeth LaPensée, Simon Fraser University
Comments: Scott Manning Stevens (D'Arcy McNickle Center) and Brendan Hokowhitu (University of Alberta)

"I'm an Indian Too" − A Critical Conversation with the 1491s
Sterlin Harjo
Migizi Pensoneau
Ryan Red Corn
Chair: LeAnne Howe
Paid for by the Student Cultural Programming Fee and co-sponsored by the Department of Gender and Women's Studies, Department of English, the Institute of Communications Research, Department of Latina/Latino Studies, Native American House, the Department of Anthropology, and The Learning to See Systems initiative at the Center for People and Infrastructures.