Beyond the Chief | Hock E Aye Vi Edgar Heap of Birds
About
"Beyond the Chief" provides an opportunity for those of us at the University of Illinois to consider the indigenous history of our campus and the state in which we live. The signs in this public art exhibit include the names of a dozen Indigenous peoples whose homelands are within the boundaries of the state of Illinois -- the Peoria, Piankesaw, Kaskaskia, Wea, Potawatomi, Ho-Chunk, Odawa, Myaamia, Quapaw, Meskwaki, Sac, and Kickapoo. Many of these peoples continue today with viable governments, cultures, and languages. All of them remain, even if some are only remnants of what they once were. Members of these groups live, learn, and work on campus. We at Native American House and American Indian Studies hope "Beyond the Chief" helps all of us who share our campus learn more about those whose homelands we occupy.
The exhibits run from February -- December 2009.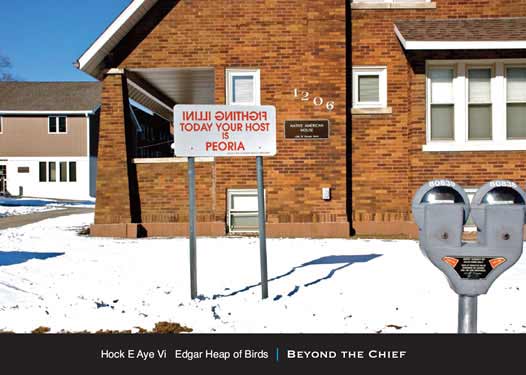 Artist Statement
Of course these words ["Beyond the Chief"] speak to extending discussion beyond the campus "chief" and its insensitive history (while still hinting at the problem); yet, the title also is derived from my own Cheyenne tribe where there is a council of 44 chiefs - and from which came four principal chiefs. The first man named Heap of Birds was one of these principal chiefs.
Most non-native people think about the chief position as if he were president or executive. In fact, chiefs often sat as a council representing bands and many families; they also differed from war chiefs or headsmen of warrior societies (one of which I belong to).
In Cheyenne tradition a chief had no personal property. All that he and his family owned was offered to tribal members on request (this is sometimes a demand even today) once the chief took the position. Chiefs were selected because of their generosity. Many men did not wish to become chief because of this point. Chiefs were chosen by chiefs, but could decline.
A chief is far beyond one person and should reflect an honor and allegiance − as well as truth, tradition, listening, openness, and good way − to a whole people.
As we install these 12 sign panels, we walk forward on the University of Illinois campus to honor these ideals and intertribal brothers and sisters from a circular position of respect.
Biography
The art of Hock E Aye VI Edgar Heap of Birds includes public art messages, drawings, paintings, prints, works in glass, and sculpture. His work was deployed as a collateral public art project by the Smithsonian's National Museum of the American Indian for the 2007 Venice Biennale. He received his M.F.A. from Tyler School of Art, his B.F.A. from the University of Kansas, and has undertaken graduate studies at the Royal College of Art in London and awarded an Honorary Doctor of Fine Arts from the Massachusetts College of Art and Design. Heap of Birds teaches Native American Studies at the University of Oklahoma and has received grants and awards from the National Endowment for the Arts, the Rockefeller Foundation, the Lila Wallace Foundation, the Pew Charitable Trust, and the Andy Warhol Foundation.
News Stories about the Exhibit