First Wave: March 16, 2009 — The damage from the first instance of vandalism is noticed and reported to University police and University administrators. The Peoria panel is the only sign damaged. This panel is directly outside of 1206 Native American House. 
Second Wave: April 6, 2009 — In this wave of vandalism, three panels were damaged: Meskwaki, Potawatomi, and Sac. These are located outside of Asian American Studies and the Native American House(s). 
Third Wave: May 4, 2009 — Three more panels are damaged: Myaamia, Odawa, and Piankesaw outside of La Casa and African American Studies. Chancellor Herman sends a mass email regarding these attacks on May 5, 2009.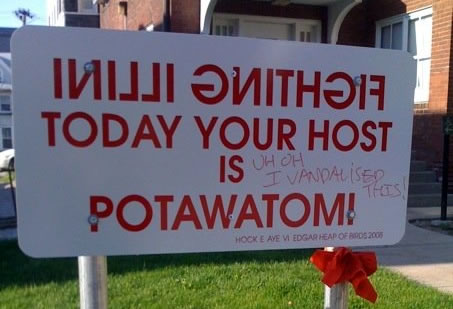 Fourth Wave: May 8, 2009 — The vandalism could have occurred any time between the evening of Friday, May 8 and 4:00pm on Saturday, May 9. The vandal wrote on the Potawatomi panel in red marker: "UH OH I VANDALISED (sic) THIS!" (Yes, they spelled "vandalized" with an "s" instead of a "z.").
Fifth Wave: May 20, 2009 — Three more panels are damaged: Peoria, Meskwaki, and Wea. These panels are located outside of Bruce Nesbitt, Asian American Studies, and 1206 Native American House. 
Sixth Wave: June 10, 2009 — One panel is reported damaged: Potawatomi. This panel is located at 1206 West Nevada Street. 

Seventh Wave: June 13, 2009 — One panel was bent, and two panels were stolen: Wea (bent), Ho-Chunk and Peoria are stolen. The two stolen panels were directly in front of the Native American House at 1206 West Nevada Street. The Wea panel is located outside of the Bruce D. Nesbitt African American Cultural Center. (On video surveillance, police capture this photo of suspect Mark Nepermann [pictured below] on the evening two signs were stolen).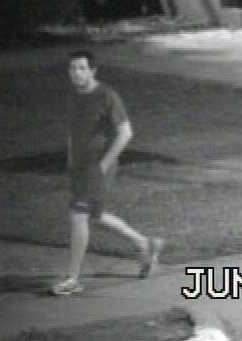 Eighth Wave: January 19, 2010 — A post on the Myaamia panel was nearly sheared off, leaving the panel bent. University Police will file a report of criminal damage.
Ninth Wave: August 27, 2010 — One of the end pieces was pried from the Wea panel that sits outside the Bruce Nesbitt Center.