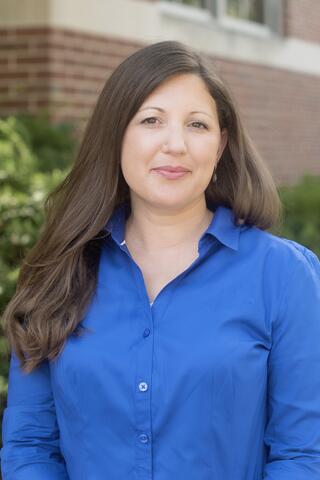 Contact Information
Office: 2064
1010 W. Nevada Street
School of Social Work
Urbana, IL 61801


Biography
Shanondora Billiot (United Houma Nation) has a PhD in Social Work at Washington University in St. Louis.  She holds a Master's of Social Work from the University of Michigan and both Bachelor of Arts and Bachelor of Science degrees from Louisiana State University. Prior to entering graduate school, Dr. Billiot had 10+ years of experience working in the field from crisis intervention and post-disaster grassroots community development to implementing and analyzing federal and international health and mental health policies.
Research Interests
Dr. Billiot's current research uses mixed methods to explore indigenous-specific factors, like a connection to land, historical trauma and discrimination, and their relationship to global environmental change exposure and health outcomes.
Education
BA, Sociology & BS, Psychology from Louisiana State University, 2005
MSW, University of Michigan, 2007
PhD, Social Work, Washington University, 2017
Additional Campus Affiliations
Assistant Professor, School of Social Work

Highlighted Publications
Billiot, S., & Mitchell, F. M. (2019). Conceptual interdisciplinary model of exposure to environmental changes to address indigenous health and well-being. Public Health, 176, 142-148. https://doi.org/10.1016/j.puhe.2018.08.011
Billiot, S. (2014). Native Americans, suicide among. In L. H. Cousins (Ed.), Encyclopedia of Human Services and Diversity (pp. 948-950). Sage Publications.
Recent Publications
McKinley, C. E., Boel-Studt, S., Renner, L. M., Figley, C. R., Billiot, S., & Theall, K. P. (Accepted/In press). The Historical Oppression Scale: Preliminary conceptualization and measurement of historical oppression among Indigenous peoples of the United States. Transcultural Psychiatry. https://doi.org/10.1177/1363461520909605
Billiot, S., & Mitchell, F. M. (2019). Conceptual interdisciplinary model of exposure to environmental changes to address indigenous health and well-being. Public Health, 176, 142-148. https://doi.org/10.1016/j.puhe.2018.08.011
Billiot, S., Beltrán, R., Brown, D., Mitchell, F. M., & Fernandez, A. (Accepted/In press). Indigenous perspectives for strengthening social responses to global environmental changes: a response to the social work grand challenge on environmental change. Journal of Community Practice. https://doi.org/10.1080/10705422.2019.1658677
Burnette, C. E., Boel-Studt, S., Renner, L. M., Figley, C. R., Theall, K. P., Miller Scarnato, J., & Billiot, S. (2019). The Family Resilience Inventory: A Culturally Grounded Measure of Current and Family-of-Origin Protective Processes in Native American Families. Family Process. https://doi.org/10.1111/famp.12423
McKinley, C. E., Figley, C. R., Woodward, S. M., Liddell, J. L., Billiot, S., Comby, N., & Sanders, S. (2019). Community-engaged and culturally relevant research to develop behavioral health interventions with american indians and alaska natives. American Indian and Alaska Native Mental Health Research, 26(3), 79-103. https://doi.org/10.5820/aian.2603.2019.79