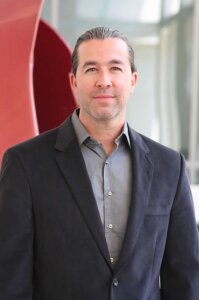 Contact Information
American Indian Studies
1204 W Nevada Street
M/C 138
Urbana, IL 61801


Biography
Dr. Tahmahkera, an enrolled citizen of the Comanche Nation of Oklahoma, is an interdisciplinary scholar of North American indigeneities, critical media, and sound.
Tahmahkera's first book Tribal Television: Viewing Native People in Sitcoms (University of North Carolina Press, 2014) foregrounds representations of the indigenous, including Native actors, producers, and comedic subjects, in U.S., First Nations, and Canadian television and other media from the 1930s-2010s within the historical contexts of federal policy and social activism. His current book project "Cinematic Comanches: Representing in the Media Borderlands" (under contract with the University of Nebraska Press' "Indigenous Films" series) is a cultural history of real and reel Comanches' performative work onscreen and off in the production of what Tahmahkera calls "Comanchería cinema."
This research informs his forthcoming digital exhibit, also called "Cinematic Comanches." The online exhibit will feature the film work of Tahmahkera's g-g-great grandfather Quanah Parker in his co-starring role in The Bank Robbery (1908), Quanah's children's roles in Daughter of Dawn (1920), Julianna Brannum's documentary Indian 101: LaDonna Harris (2014), and other cinematic work by Comanches as actors, directors, producers, film consultants, and critics. "Cinematic Comanches" also features non-Native actors, like William Shatner (yes, that Shatner!) as twin Comanche brothers in Razzie recipient White Comanche (1968) and Serbian actor Gojko Mitic (dubbed "the most famous Indian in Eastern Europe") as "Chief Tahmahkera" in In Einem Wildenland (2013).
For more on this research, see Tahmahkera's articles "'We're Gonna Capture Johnny Depp!': Making Kin with Cinematic Comanches" in American Indian Culture and Research Journal (UCLA Press) and "Haaka tsa Kwitop Hahka? [Who is Shi*ting Whom]: Seeking Representational Jurisdiction in Comanchería Cinema" in Native American and Indigenous Studies (University of Minnesota Press).
Currently, Tahmahkera is a 2020-2021 TDMH Fellow in the Humanities Research Institute at the University of Illinois, where he is training in digital music production and cross-genre sampling to construct an experimental research soundtrack--ranging from historical recordings of Native elders and homelands to traditional powwow songs and alternative folk music to Tahmahkera's songwriting--for his manuscript and digital site "Becoming Sound: Sonic Quests of Healing in Indian Country." Through a genealogy of indigenous soundscapes and aural approaches to cultural well-being, this project of sonic hybridity seeks to reimagine and remix the sounds and spaces in Indian Country and, in effect, to be culturally in tune with what he calls "ancestral acoustics" that shape contemporary and future ways of becoming sound human beings. On Indigenous Peoples Day in 2017, the site Sounding Out! published Tahmahkera's "Becoming Sound: Tubitsinakukuru from Mt. Scott to Standing Rock." For his earlier work in indigenous sound studies, see "'An Indian in a White Man's Camp': Johnny Cash's Indian Country Music" in the special Sound issue of American Quarterly.
Professor Tahmahkera also is a scriptwriter and voiceover artist (Quanah Parker for TED-Ed), songwriter, film consultant, Indigenous film series curator, and documentary curriculum guide writer (LaDonna Harris: Indian 101 and Through the Repellent Fence). He also serves on the editorial board of the Journal of Cinema and Media Studies and volunteers for Illinois Radio Reader. He has delivered invited talks such as the Shaw Lecture in American Studies at Dickinson College, interviewed on podcasts like Eric Molinsky's Imaginary Worlds, and served on the Community Advisory Board of KLRU, the Austin-based affiliate of PBS.
Additional Campus Affiliations
Associate Professor, Unit for Criticism and Interpretive Theory

Recent Publications
Tahmahkera, D. (2018). Hakarʉ Marʉʉmatʉ Kwitaka? Seeking Representational Jurisdiction in Comanchería Cinema. Native American and Indigenous Studies, 5(1), 100. https://doi.org/10.5749/natiindistudj.5.1.0100
Tahmahkera, D. (2017). "We're Gonna Capture Johnny Depp": Making Kin with Cinematic Comanches. American Indian Culture and Research Journal, 41(2), 23-42. https://doi.org/10.17953/aicrj.41.2.tahmahkera
Tahmahkera, D. (2016). Tubitsinakukuru: Listen closely. Biography - An Interdisciplinary Quarterly, 39(3), 309-313. https://doi.org/10.1353/bio.2016.0040
Tahmahkera, D. (2014). Tribal television: Viewing native people in Sitcoms. University of North Carolina Press. https://www.jstor.org/stable/10.5149/9781469618692_tahmahkera
Tahmahkera, D. (2011). "An Indian in a white man's camp": Johnny Cash's Indian Country music. American Quarterly, 63(3), 591-617. https://doi.org/10.1353/aq.2011.0039